Sonic Tonic: Restorative Yoga Elixir with Tibetan Bowls
upcoming dates TBA

Sonic Tonic is a restorative experience with Tibetan bowls, bells, and gong to help you to slow down in a luscious, supportive and safe way. We provide and hold space for you to come into your own alignment and receive your body's own wisdom through restorative yoga supported by the mystical, ambient sounds of the Tibetan bowls.

Our bodies know how to regain balance and heal after trauma, injury or excess stress. How can we position ourselves to listen? In a world of demanding schedules and responsibilities, it is challenging to cultivate the spacious timelessness needed to regain balance and calm. Jacqueline holds a sacred space for each participant to deeply rest, integrate and embody an inner spaciousness.
Deeply rest, be nourished, restore, and awaken to your own brilliance.
In Restorative Yoga one practices stillness to rejuvenate the mind, body and spirit. It allows us room to think clearly, reconnect with our natural state and to heal. The use of props in Restorative Yoga helps support our body in positions to achieve total relaxation. This practice is known for activating the parasympathetic nervous system which helps the body to become less vulnerable to stress related illnesses.
Please bring a mat and your favorite bolster or pillows. We will have cushioning and blankets for your use.

Afterward, join us for a cup of tea as you transition to the outside world.
"A lovely immersion of sound and caring guidance to changing positions. The sacred space was held by the two of you so beautifully." Lynn Augstein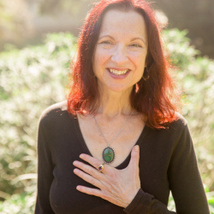 Jacqueline Lasahn, Intuitive Astrologer and Ritualist, is a wisdom guide and compassionate ally. She has been playing Tibetan Bowls for over 30 years. She participated with the late Elisabeth Targ, MD, in a study funded by the National Institute of Health through the California Pacific Medical Center, examining the power of prayer in healing advanced AIDS patients and used distance healing ritual with Tibetan bowls, bells and chanting. Sound meditations and ceremony at Wilbur Hot Springs for 20 years. Co-founder of Temple of Living Prayer, she served as minister and pastor for over ten years in Sacramento. www.AstroSpirit.com

---